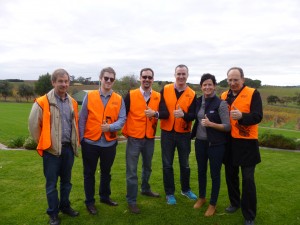 ABQ Australia
October 15, 2014
ABQ was invited by Musica Viva Concerts to head to Australia for a 22 day, 7 city tour in May. Imagine our excitement at this news, not only to get to a faraway continent, but also as an extraordinary opportunity for a group with 2 new members to really gel. The planning was done far in advance of the tour and I even had an interview via Skype in the summer of 2013. Musica Viva is so well organized that they have a designer for their yearly brochure and send a photographer to the performing artists, no matter where they are in the world.
As the tour approached, more and more interviews were requested. Most were to be on the radio once we got there but a couple were written and sent to me with deadlines. When I suddenly realized that my deadline of May 1st was actually April 30th on our side of the world, I felt like a college student taking finals! To make things more complicated, I had rehearsals all day with the Orchestra of St. Luke's. Luckliy, the repertoire included Brahms 1st Symphony in which the trombones are tacet for 3 movements. I answered all the questions on my smart phone and never missed an entrance.
We learned an important tidbit about our new members on this trip. Eric and Louis have elite status on some airlines! This was very handy for boarding flights early and finding safe storage for our instruments. Also, an occasional lounge visit can be welcome.
Leaving JFK, we were delayed for 2 hours once we were onboard. With a 1 1/2 hour layover in San Francisco, I thought it was worth inquiring if our connection to Sydney might be alerted to our delay. Our flight attendant seemed to think it possible to make up 2 hours en route and assured us not to worry. Of course, we wound up with a bonus day in San Francisco--not only was the connecting flight not held, it left early! We did make the most of the day, though, seeing some friends, eating often, and even practicing for a while at the SF Conservatory.
Arriving in Sydney a day late, Louis and I dropped bags at the Radisson and were whisked to the Australia Broadcasting Corporation studios. We gave 2 interviews, one for Hobart and another for Melbourne. Being punchy from the 15 hour flight seemed to help with snappy answers--we were too tired to overthink. As our reward, the Musica Viva public relations director, Cassie, took us to the legendary Sydney breakfast restaurant, Bill's. We feasted on corn fritters, ricotta pancakes, and started our tour of the amazing Australian coffee culture.
Since we had lost our recovery day, we then went to the Musica Viva office and had a rehearsal. While there, we got to meet the staff who didn't travel with the artists. It was surprising how many there were--around 20, who listened to a couple of pieces then asked lots of questions. In its 64 year history, we were only the 2nd brass quintet to be sponsored by Musica Viva. It was quite an honor to be in such rare company, and seemed fitting as another accomplishment in the ABQ mission.
After an early dinner, we collapsed in our beds and slept in preparation for some touring. The first destination was Newcastle, a 3 hour drive from Sydney. We stopped at a beautiful private school for a master class before our evening concert, after which we were treated to a reception at a cool boutique winery.
The next morning, surprisingly without a hangover from the excellent local wines, we flew to Brisbane. Again, we were staying in a luxury hotel--Musica Viva pampered us in a way we'd love to become accustomed to! In between a master class at the Queensland Conservatorium and a sold out concert, we were able to fit in a walking tour of the city. Interesting to experience a country even younger than the United States. Mostly, we kept finding the friendliest people on earth.
Returning to Sydney for our first of two concerts in that city, we had some time to see a bit of the gorgeous city.  With a visit to the zoo, walking around the opera house, exploring the various espresso bars, we really enjoyed our time there.
After a tease of one day in Melbourne,  we flew 5 hours to Australia's west coast. Perth, a very remote city is on the Indian Ocean and is closer to Indonesia than Sydney. Again, a beautiful city with great culture and good coffee. No wonder everybody's in a good mood in that country!
Right back to  Melbourne for a 4 day stay. If we thought Sydney was great, Melbourne topped it. Art, architecture, food, coffee--we were excited to be there and explore. Eric and I went to a fabulous wine bar with some Australian musicians and we dined in good company. Walking over a mile back to our hotel showed us a few great neighborhoods, amazing public art, and a safe, clean, comfortable city to spend time. We found a variety of cuisines--a fabulous tapas bar, excellent Japanese food, gelato, and a wonderful farmers market. Our former students Joel Brennan and Don Immel, who are now leading the brass department at the Melbourne Conservatorium, shepherded us around for a day and made sure we had a great time.
With other amazing excursions to Hobart and Adelaide, the tour was one of the best in our history. We managed to squeeze in a visit to Mollydooker Vineyards in MacLaren Vale, where we were treated to a magnificent  lunch from their gardens and delicious, potent Shiraz. I wondered what it meant for me that after indulging in wines with 16% alcohol content, that night I played my best concert of the tour!
ABQ was treated like royalty the entire 3 weeks. Luxury hotels, posh dinners and receptions, any needs anticipated before we knew they existed, not to mention great concert halls acoustically as well as architecturally--we sure are hoping that 46 years won't pass before our next tour down under! - JR