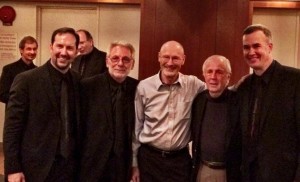 An Evening to be Remembered
December 29, 2014
"New" ABQ took the stage of the Peter J Sharpe Theatre (we old timers remember it as the Juilliard Theatre) on October 16 to not only play our first major New York recital, but also to pay tribute to our newly retired players, Ray Mase and David Wakefield. We decided to start with a couple of our standard openers, In Gabrieli's Day and Osvaldo Lacerda's Fantasia and Rondo, then had the pleasure of revisiting Gunther Schuller's Brass Quintet No. 2, written in 1993. It's an amazing piece, difficult, soulful, and humorous. It's one of our finest commissions from a major composer and very satisfying to perform. It was received as enthusiastically as ever, and served as a bit of an homage to Ray's legacy, since he was highly influential in its creation.
The second half displayed some more brass tradition by starting with the first quintet of Victor Ewald. The Ewald, as most brass players call it, is probably the most standard serious piece in our repertoire. We use it as the required audition piece for our Aspen fellowship and it could be the equivalent of Beethoven's 5th Symphony for brass players. We wanted to show what ABQ could do with this Romantic era gem. From there we hopped back to the Renaissance again for Louis' editions of 3 Gesualdo Madrigals, stunning pieces.

That took us to the night's world premiere, Canticum Honoris Amicorum --a piece written to celebrate the changes in the quintet composed by our great friend, Eric Ewazen. Eric came up with a beautiful work for 9 players that is meant to be a farewell to retiring members as well as a welcome to new members. It reflects the ABQ philosophy very well--we are a family. 

The piece is typical Ewazen in the joy and energy it conveys. Fanfares, beautiful melodies, great sonority and a dazzling finish brought the concert to a wonderful conclusion.  Along with Ray and David performing with us, the nonet was rounded out by 2 outstanding Juilliard trombonists, Johnny Elizondo on tenor and Simon Wood on bass.
We are thrilled to have been able to honor the long careers of Ray and David. The party after, generously hosted by Juilliard, was very moving. Heartfelt speeches were delivered and letters from ABQ alums Lou Ranger and Chris Gekker were read. Other former quintet members who graced the evening were Bob Biddlecome, Allan Dean and Ronald Anderson. It was an event that will be remembered for many years and a great day for ABQ. - JR
(image photo shows a lineage of ABQ trumpets. From left to right: Kevin Cobb, Ray Mase, Allan Dean, Ronald Anderson, and Louis Hanzlik)