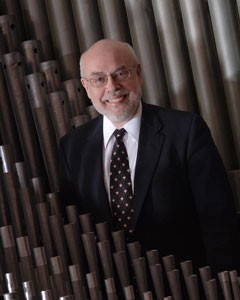 Next ABQ premiere hits home as father and son take a familiar stage
March 24, 2015
In April, the ABQ will visit Evansville, Indiana to premiere a new work by William Bolcom for organ and brass quintet. While it wasn't exactly written "for" ABQ, the new piece hits close to home for one of us, and continues the group's legacy of world premieres by major composers.
In 2012, my father, Douglas Reed, retired from teaching organ, harpsichord, music theory and sacred music at the University of Evansville. Upon this occasion, the local chapter of the American Guild of Organists decided to commission a piece to honor his 35 years of service to the region through his teaching, organ advocacy and church music leadership.
He approached me about the piece. "Eric, what would you think of a piece for organ and French horn?" he asked. Not a bad idea, but I immediately had another thought.
From the beginning, my father's main goal in helping to create this new piece and all the events surrounding it has been to enrich and empower the cultural landscape of the city of Evansville. A fitting and admirable thing indeed, given that the AGO chapter is honoring him for working toward this very mission over several decades.
In keeping with this goal and in response to his question about a piece for organ and horn, I said, "that sounds nice, but how about a great big piece for organ and brass quintet?" His eyes lit up.
At the time, I was a member of the Canadian Brass, and the opportunity for that group to premiere a piece by a major North American composer was attractive. I couldn't NOT suggest it. Plus, how better to increase the visibility and pride of the Evansville community than to bring such a popular ensemble into the project? Several months later, the piece was finished.
In the time since the commission, I've had a bit of a change in scenery. In 2014, I became the newest member of the American Brass Quintet, and I brought the piece with me. Quite fittingly, the ABQ will be the group to premiere this major new work with my father. Giving first performances of brand new chamber music is what the ABQ has done over 100 times in its 55 year history, and what William Bolcom's piece, my dear old dad and the community of Evansville deserve.
This is not the first piece by William Bolcom to be premiered by the ABQ. In 1980, the year I was born, the group premiered his Brass Quintet at the Aspen Music Festival. Interestingly, Bolcom's subtitle for this quintet is "Remembered Fathers." 
The opportunity to perform alongside my father has come in many forms over the last 25 years. He accompanied me at the Indiana state music contest one year. I must have been 13. (The judge's first comment: "Very competent accompanist!"). We've played together in churches many times, most recently in a jazz vespers service he created at the University of Evansville's Neu Chapel, where he serves as University Organist Emeritus. We even surprised my mother, Helen Skuggedal Reed, at a 2013 service honoring her 22 years of service at Eastminster Presbyterian Church in Evansville.
Despite sharing the stage and organ loft numerous times, the opportunity to come home to Evansville and premiere this wonderful new work is inspiring and life-affirming for me. The activities the ABQ has scheduled with students of the Evansville-Vanderburgh School Corporation and Evansville Philharmonic Youth Orchestras, entities from which I received invaluable musical training growing up, will further honor the community which my father and I care so much about. The Reeds and the ABQ are very excited!
The premiere of William Bolcom's Fantasia will take place on April 10th at 7pm, First Presbyterian Church, 609 SE 2nd Street, Evansville Indiana, 47713. Admission is free.
For more information please visit www.evansvilleago.org & www.firstpresevansville.com