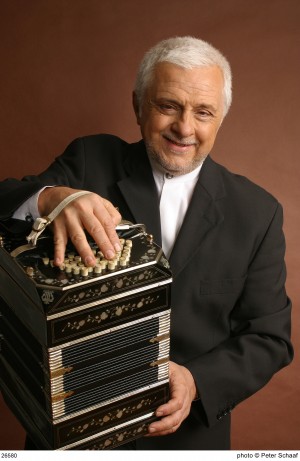 ABQ to premiere work by Piazzolla's bandoneonist Daniel Binelli
April 22, 2015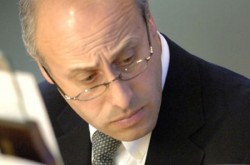 When my friend, Dr. Ezequiel Menendez - organist and director of music of the Cathedral of St. Joseph in Hartford, CT - inquired about the ABQ presenting a brass quintet and organ concert at the cathedral, I knew Ezequiel's virtuosic organ skills paired with the ABQ's style and flair would make for a fantastic concert billing.

Little did I know that Argentinian-born Menendez (pictured right) had something else up his sleeve for the Sacred Sounds concert series performace. "Knowing the quintet's history of premiering new works for brass," said Menendez, "I asked them if they would allow me to commission my friend Daniel Binelli to write a piece for the concert."

Daniel Binelli, a world-renowned composer and long-time bandoneonist for Astor Piazzolla's tango ensemble, set to work right away to create the piece, and will join the ABQ and Menendez on the program. Alma Iluminada (Glowing Soul) is written for the American Brass Quintet, Bandoneon, Percussion, and Organ. "Pope Francis was his inspiration for this piece" said Menendez "and Daniel has again crafted a piece full of energy, interesting harmonies, and colors."

Although the American Brass Quintet has commissioned relatively few South American composers, tours to South America in the 1970's led to the addition of South American works to the quintet's regular touring repertoire, most notably Osvaldo Lacerda's Fantasia and Rondo which will also be performed on the concert. The concert will also include brass music of Renaissance Venice and England, and Menendez and Binelli will collaborate on works by Piazzolla and Ginastera.
by Louis Hanzlik
The concert is this Saturday, April 25th at 7:30 PM
For more information, visit: http://www.cathedralofsaintjoseph.com/music-sacredsounds.html
Also, for information on Daniel Binelli please visit  http://danielbinelli.com/v2/home/