Click here for ABQ newsletters from 1998-2013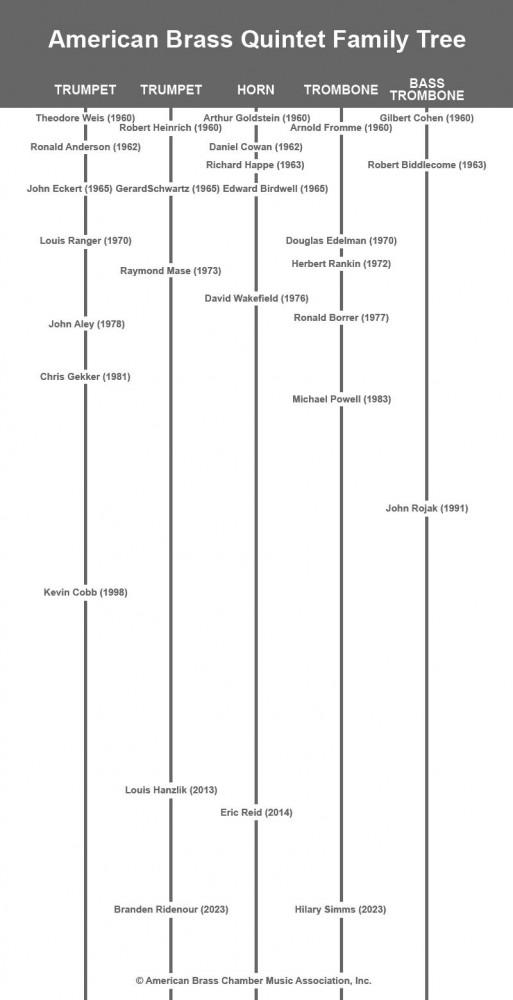 Former Members Biographies 
(in order of departure)
Louis Hanzlik, trumpet (2013-2022)
Louis Hanzlik is an internationally recognized trumpeter, chamber musician, and educator. As a member of the Grammy Award-winning Orpheus Chamber Orchestra and the American Brass Quintet, Dr. Hanzlik has performed concerts and presented solo and ensemble master classes in Asia, Australia, North America, South America, and Europe. Dr. Hanzlik is Professor of Trumpet at the University of Connecticut, where he also serves as Coordinator of Brass and Percussion. As an educator, Dr. Hanzlik promotes the inclusion of chamber music within a student's learning. His dissertation Fostering Democracy and Citizenship through Chamber Music Coaching from Teachers College Columbia University, examines chamber music's unique social and musical attributes.
Michael Powell, trombone (1983-2022)
Michael Powell, joined the American Brass Quintet in1983. In New York City he performed and recorded regularly with the Orchestra of St. Luke's, the Orpheus Chamber Orchestra, and the Little Orchestra Society. Mr. Powell has performed as concerto soloist with the Orchestra of St. Luke's, Wichita Symphony Orchestra (with the ABQ), Kansas City Philharmonic, the Aspen Music Festival, and the New Hampshire Music Festival. He also records for radio, television, and cinema, and appears on over seventy recordings as trombonist. Mr. Powell has commissioned, premiered, and recorded trombone works by Eric Ewazen, Robert Martin, Steven Sacco, and David Sampson. 
**Michael Powell is still recovering from his stroke, working diligently with his therapists. Mike's great sense of humor is intact and he loves receiving messages from friends and fans. For more information, updates and a place to leave messages, visit his CaringBridge site at https://www.caringbridge.org/visit/michaelpowell
David Wakefield, horn (1976-2014)
David Wakefield joined the American Brass Quintet while he was still a doctoral student at The Juilliard School. A member of the Aspen Music School faculty since 1976, the Juilliard School faculty since 1987, and the Hartt School since 2011, he also served as Senior Associate Dean for Performance Activities at Juilliard. He has premiered over 250 new works and collaborated closely with such composers as Milton Babbitt, Luciano Berio, Elliott Carter, John Corigliano, Jacob Druckman, Eric Ewazen, George Tsontakis, and Charles Wuorinen.
Raymond Mase, trumpet (1973-2013)
Trumpeter Raymond Mase, the longest serving member of ABQ, is responsible for many of the ABQ's performance editions of 16th, 17th and 19th-century brass music, and was instrumental in the group's recordings utilizing 19th-century brasses. He is Chair of the Brass Department at The Juilliard School and retired as principal trumpet of the New York City Ballet Orchestra in 2019. He is a member of the Aspen Music School faculty and has served on the Board of Directors of Chamber Music America. 
Chris Gekker, trumpet (1981-1998)
Chris Gekker is currently Associate Professor of trumpet at the School of Music at the University of Maryland, having previously served on the faculties of The Juilliard School, the Manhattan School of Music and Columbia University. He was a member of the American Brass Quintet for eighteen years, as well as principal trumpet for the Orchestra of St. Luke's. His Articulation Studies (now in its third printing) and 44 Duos are available from Colin Publications.
Robert Biddlecome, bass trombone (1963-1990)
Robert Biddlecome replaced Gilbert Cohen (founding bass trombonist) and shortly afterwards was offered the bass trombone position with the NY City Ballet Orchestra. As a member for 28 years, he may be heard on more than thirty recordings with ABQ, and it was during his time that the quintet began its ongoing commissioning program, made its first recordings, made its first international tours, started the Aspen and Juilliard residencies and became recognized as the premier brass ensemble that it remains today.
Ronald Borror, trombone (1977-1983)
Retired as Professor of Trombone at the Hartt School after a more than 3 decade tenure, Ron Borror is also former associate principal trombone of the New York City Ballet Orchestra, former member of the New York Cornet and Sackbut Ensemble, Parnassus, and the American Composers Orchestra. His solo recording of music by American composers received high critical acclaim and his album of early 17th century repertoire on the baroque trombone was designated Recording-of-the-Month by Alter Musik Aktuell. 
John Aley, trumpet (1978-1981)
John Aley is the retired professor of trumpet at the University of Wisconsin-Madison School of Music. While with the ABQ, he performed and recorded with such ensembles as Musica Sacra, American Symphony Orchestra, Orpheus Chamber Ensemble and American Composers Orchestra, the PDQ Bach orchestra. During the summer he is an artist/teacher at the Interlochen Arts Camp, Michigan.
Louis Ranger, trumpet (1970-1978)
Recently retired from teaching at the University of Victoria, BC, Lou Ranger held this position since he left the quintet in 1978.  While with the ABQ, Lou enjoyed a successful life as a freelancer performing with such orchestras as the New York City Ballet, the New York City Opera, Radio City Music Hall, the Boston Symphony, the Berlin Philharmonic, and the New York Philharmonic where he was co-principal trumpet. He was also first trumpet with the Musica Aeterna orchestra. He has released a CD entitled The Trumpet Comes of Age: 1940-1980 (with Bruce Vogt).
Herb Rankin, trombone (1972-1977)
Herb was the principal trombonist in the Kansas City Philharmonic, with a background in jazz from his youth in and around New Orleans, LA. Herb moved to NYC for the ABQ and also played trombone in Doc Severinsen's "Tonight Show Band." He left the quintet to become Executive Director of the Los Anegeles Chamber Orchestra and is now president of The HandeBalm Company.
Edward R. Birdwell, horn (1965-1976)
(d. 2018) After his tenure in the quintet, Ed Birdwell went on to become a top level administrator with some of this country's largest musical organizations. These include Seatlle Symphony Orchestra (working with Gerard Schwarz) as Managing Director and Executive Vice President, National Endowment for the Arts as director of the Music Program, former orchestra manager of the Boston Symphony Orchestra, and former Executive Director, Los Angeles Chamber Orchestra.
Gerard Schwarz, trumpet (1965-1973)
Gerard Schwarz was the youngest person to join the ABQ at 18 years of age. Eventually dedicating his life to conducting, Gerard currently serves as Music Director of the All Star Orchestra, Music Director of the Eastern Music Festival in North Carolina, Conductor Laureate of the Seattle Symphony and is a distinguished professor of conducting and orchestral studies at the Frost School of Music at the University of Miami. He was appointed co-principal trumpet of the New York Philharmonic Orchestra from 1972 to 1975 and was the first wind player to win the Ford Foundation Award which enabled him to commission a trumpet concerto from Gunther Schuller.
Douglas Edelman, trombone (1970-1972)
Doug graduated from the Curtis Institute in Philadelphia, subbing in the Philadelphia Orchestra while there. He was principal trombone of the Baltimore Symphony, then played for 22 years as 2nd trombone of the Metropolitan Opera. While a member of the Met, Doug also freelanced, playing principal trombone in the Opera Orchestra of New York and the American Symphony.
John Eckert, trumpet (1965-1970) 
The only ABQ member to have a successful dual career in both the classical and jazz idioms, when John Eckert joined the ABQ he was also the lead trumpeter in two big bands: the Buddy Morrow Orchestra, and the Maynard Ferguson Orchestra. Playing with such names as Lee Konitz, Toshiko Akiyoshi, Benny Goodman, and Simon and Garfunkel, John is recognized in the book "The Trumpet Kings: The Players who Shaped the Sound of Jazz Trumpet" by Scott Yanow. John is still mainting a successful freelance career in New York.
Arnold Fromme, trombone (1960-1970)
(d. 2008) Arnold Fromme was a founder and the original tenor trombonist of the American Brass Quintet. In 1958, Fromme and trombonist, Gil Cohen, organized a sextet called the American Brass Ensemble, which was the progenitor of the American Brass Quintet. Born in Brooklyn in 1925, he graduated from Juilliard and received his Ph. D. from Columbia University, continuing studies at the Paris Conservatory. He served in the United States Army during World War II from 1944 to 1945.
Arnold Fromme's objectives in founding the American Brass Quintet remain intact. We honor his memory by preserving the original mission of the ABQ: Bridging the gap between modern composers of brass chamber music and audiences and bringing to light music of the past written for the ancestors of our modern instruments.
Allan Dean, trumpet (1964-1965)
For over 30 years, Allan Dean served as Professor of Trumpet at the Yale University School of Music accompanied by his performing with Summit Brass, St. Louis Brass and the Yale Brass Trio. In the early music field he was a founding member of Calliope: A Renaissance Band and the New York Cornet and Sacbut Ensemble. Mr. Dean was a member of the New York Brass Quintet for 18 years and freelanced in the New York City concert and recording field for over 20 years before joining the faculty of Indiana University from l982-1988.
Richard Happe, horn (1963-1965)
Much in demand as a freelance artist in New York, Mr. Happe appeared with the American Ballet Theatre Orchestra, the New York City Opera Orchestra, the Orchestral Society of Westchester, the Rye Chamber Orchestra, the Band of America, the Columbia Group for Contemporary Music, the Manhattan Woodwind Quintet, the Bennington Composers Conference, Broadway Show Orchestras and other groups. From 1968-97, Dick was a member of the Pittsburgh Symphony Orchestra. He attended Indiana University, the Juilliard School of Music and the Manhattan School of Music.
Ronald Anderson, trumpet (1962-1965)
(d. 2023) Ron Anderson appeared as soloist around the world and had numerous trumpet works composed for him. He was the first wind artist from the West to begin teaching, performing and conducting Western music in China, immediately after its Cultural Revolution. He was principal trumpet of the NY City Ballet Orchestra in Lincoln Center and taught at Bennington College for many years. He is the recipient of an M.B. Rockefeller Grant and was a board member of the ISCM and of the Stefan Wolpe Society.
Robert Heinrich, trumpet (1960-1964)
(d. 2015) Mr Heinrich was a founding member of the American Brass Quintet and later joined the New York Brass Quintet in 1964. He was particularly noted for his high register trumpet playing in Baroque music and his recording of J S Bach's Cantata No. 51 with soprano Judith Raskin is
greatly admired by trumpeters to this day. Mr Heinrich was a member of the original pit orchestra for "Fiddler on the Roof" and performed with a number of chamber orchestras and new music ensembles during his music career. But Mr Heinrich also had a second career – as a professional airline pilot. In1966, he was hired by Pan Am, where he worked for 25 years before getting a job with United. He retired as a captain with United in 2005.
Daniel Cowan, horn (1962-1963)
Bio to come
Gilbert Cohen, trombone (1960-1963)
(d.1985) Gil Cohen founded the ABQ with Arnold Fromme and left the quintet shortly afterward to join the the New York Philharmonic. He became a professor of music at Mannes School of Music, and also worked for Radio City Music Hall and Sadlers Wells Ballet, played for several Broadway shows and numerous television and radio programs. Born in Brooklyn, N.Y., he was a member of the U.S. Army Band during World War II.
Arthur Goldstein, horn (1960-1962)
(d. 2009) Arthur E. Goldstein was the first French horn player in the quintet. Born in Brooklyn, NY, Mr. Goldstein served in the U.S. Army with the 388th ASF Band during World War II, which included a White House performance. He was a founding member of the Metropolitan Brass Quintet and was on the faculty of Nassau Community College and Hofstra University for 43 years. Mr. Goldstein was author and publisher of the Eric von Schmutzig Series books as well as several horn method books.
Theodore Weis, trumpet (1960-1962)
(d.1987) Theodore Weis was principal trumpet with the New York City Opera Orchestra from 1949 to 1964 and again from 1968 to 1976. He was principal trumpet with the New York City Ballet Orchestra from 1949 to 1976. Beginning in 1976 he moved to third trumpet and became the Assistant Personnel Manager. He was also a founding member of the American Brass Quintet and remained with the quintet until 1962.