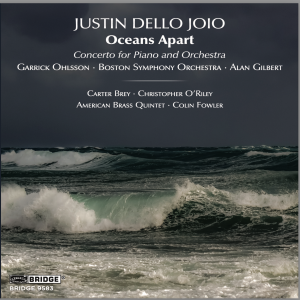 Oceans Apart - music of Justin Dello Joio
ABQ recording of "Blue and Gold music"
Blue and Gold music, written for quintet and organ, is a featured work on this latest release on Bridge Records
ABQ with organist Colin Fowler is happy to be included on Justin's latest release, "Oceans Apart" on Bridge Records featuring the American composer's new piano concerto, "Oceans Apart." This concerto was composed for keyboard titan, Garrick Ohlsson. Ohlsson is joined by the Boston Symphony Orchestra, conducted by Alan Gilbert, the artists who premiered the concerto in 2023. The program also includes chamber works performed by the New York Philharmonic's principal cellist, Carter Brey, with pianist Christopher O'Riley.
---