Aspen Music Festival and School

The American Brass Quintet has served as an Ensemble-in-Residence at the Aspen Music Festival and School since 1970. The ABQ is responsible for coordinating the school's brass chamber music program and providing weekly coachings to student ensembles; a highlight of this collaboration is the renown "Brass Bash," where all student ensembles have the opportunity to perform for the Aspen community. The ABQ also presents a quintet recital in addition to performing individually in chamber music, orchestra and solo settings. At the AMFS, individual members of the ABQ serve as music faculty teaching private lessons and serving as principal players of the Aspen Chamber Symphony and Aspen Festival Orchestra.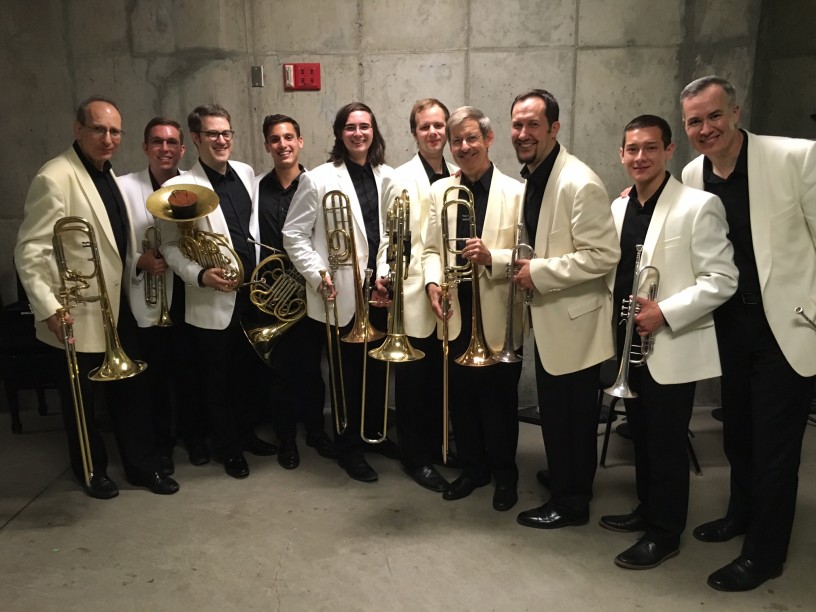 (2016 fellowship quintet Anima Brass with the American Brass Quintet after Harris Hall recital)
Brass Quintet Studies at the Aspen Music Festival
The AMFS sponsors five fellowships to a pre-formed brass quintet for the eight-week program. The Fellowship Quintet receives coachings and individual lessons from ABQ members, in addition to performing in collaboration with the American Brass Quintet and coordinating their own full length recital. Individual members of the fellowship brass quintet also serve as part of the regular orchestra rotation.
Interested ensembles should apply by January 2, 2017. For more information, please visit our Aspen Music Festival and School page.