The American Brass Quintet has served as an Ensemble-in-Residence at the Aspen Music Festival and School since 1970. With a new program started in 2018, the Aspen Music Festival is currently offering full fellowships for up to three quintets, enabling young groups to elevate their chamber music ambitions to the next level.
This four-week seminar will be an intensive for student groups, working closely with the ABQ on the development of chamber music skills and repertoire. Separate from the orchestral program, the American Brass Quintet Seminar @Aspen was created to be the premier brass chamber music training program for emerging, preformed brass quintets and young brass musicians. This program offers intensive coachings, plenty of performing opportunities, as well as time to enjoy everything Aspen has to offer.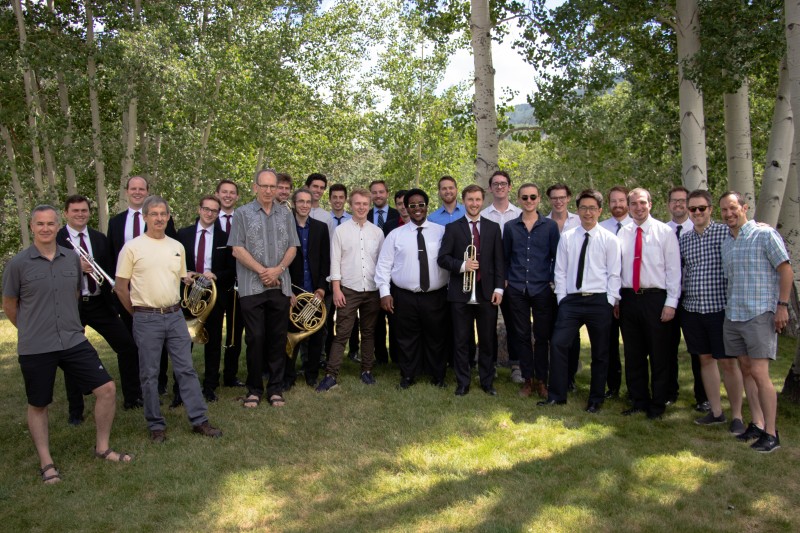 Please visit the Aspen Music Festival website here for more information about the program, application deadlines, and how to apply.
See our ABQS@A video here
In addition to this exclusive program, the ABQ is still responsible for coordinating the school's brass chamber music program for the orchestral students, as well as providing weekly coachings to student ensembles. A highlight of this collaboration is the renowned "Brass Bash," where all student ensembles have the opportunity to perform for the Aspen community. The ABQ also presents a quintet recital in addition to performing individually in chamber music, orchestra and solo settings.